Midnite Mausoleum - all 4 * IT* blurays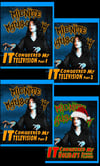 ALL 4 "IT CONQUERED..." blurays shipped in 1 package - save a bundle in shipping!!
Keeping Horror Hosting alive on local broacast television !
8 complete broadcast episodes from 2022 ! Marlena Midnite and her friends host:
Atom Age Vampire
Messiah of Evil
Track of the Moonbeast
House on Haunted Hill
The Amazing Mr X
The Night Evelyn Came Out of the Grave
Santa Claus VS The Devil
The Screaming Skull
! Fun for all...
(NOTE: Messiah Of Evil has quite a bit of blood)
Get 8 great Midnite Mausoleum episodes on 4 blurays!
+ Promo Spot and outtakes.
Midnite Mausoleum in beautiful 1080 HD and dolby ac3 stereo.